Vegan Food Club is a meal delivery company catering to hundreds of subscribers across Spain and Portugal.
Vegan Food Club, a popular meal delivery service, had been offering its clients a variety of fresh, weekly vegan meal options through their Shopify website. However, they were struggling to provide a seamless and user-friendly online experience for their customers. Our team was tasked with migrating their existing platform to a new, headless web app. This transition not only improved the checkout process but also introduced a customer dashboard that enabled users to easily manage their subscriptions and meal selections.
About the project
Our primary objective was to migrate Vegan Food Club from their old Shopify platform to a new headless web app while maintaining the essence of their brand. By using a headless architecture, we were able to improve the website's performance, create a better user experience, and enhance the overall functionality.
Key features:
Efficient Checkout Process: We streamlined the checkout experience, making it easier and faster for customers to complete their purchases.
Customer Dashboard: We introduced a new customer dashboard that allowed users to select their meals, manage their subscriptions, and access other information.
Mobile-Responsive Design: We ensured the new web app was fully responsive, providing a seamless experience for customers across all devices.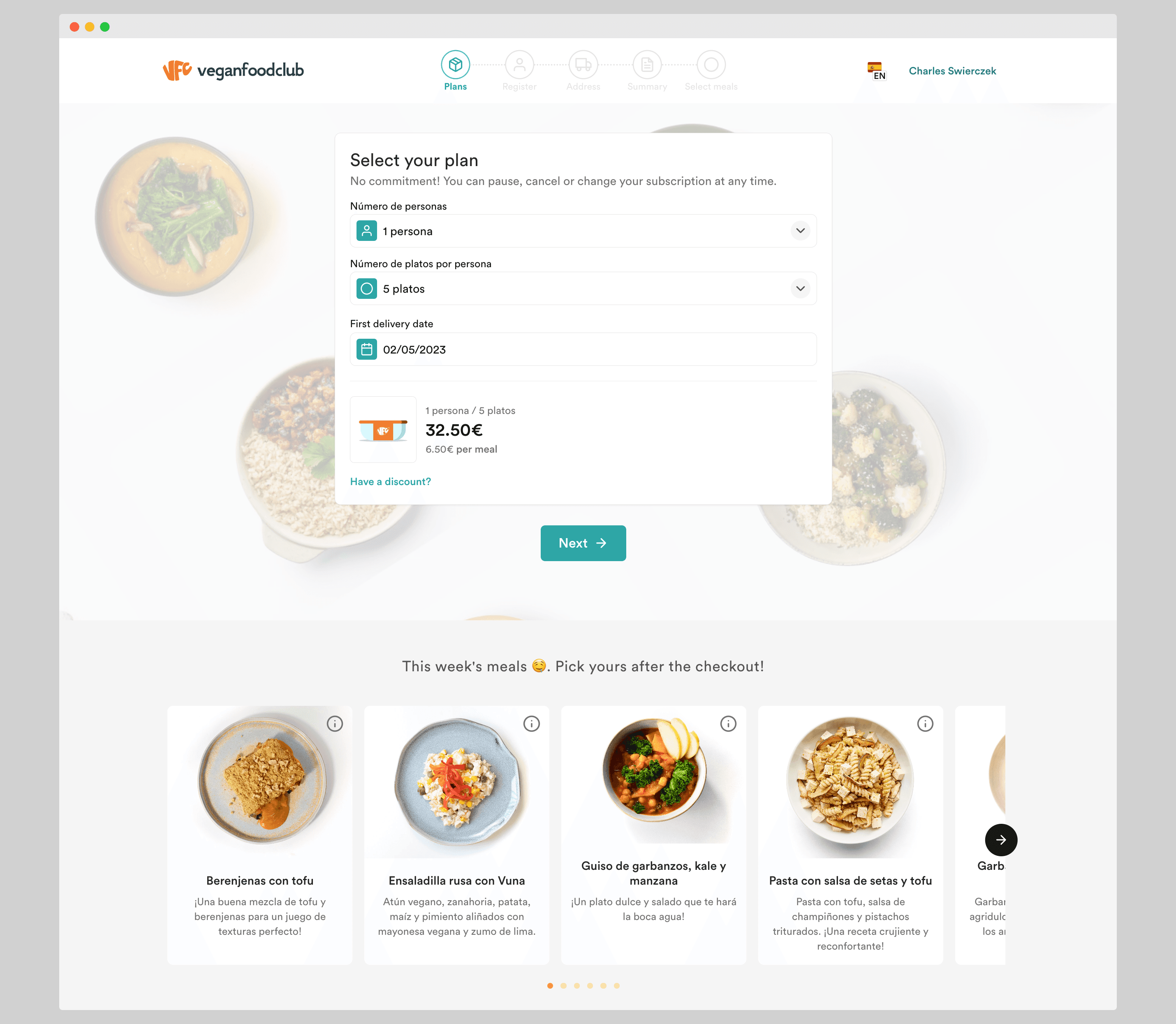 Improved Checkout Experience: Streamlined and User-Friendly
One of the main goals of our project was to enhance the checkout experience for Vegan Food Club customers. By breaking the process into several easy-to-follow steps, we managed to create a more streamlined and intuitive flow that reduced the bounce-off rate and increased conversions. Here's an overview of the improved checkout process:
Customizable Meal Selection: The first step in the checkout process allows customers to personalize their meal subscriptions. They can choose the number of people, the number of meals per day, and the first delivery date.
Account Creation: Next, customers are prompted to create an account or log in to their existing account. This step not only makes it easier for users to manage their subscriptions in the future, but it also helps Vegan Food Club keep track of customer preferences and deliver a more personalized experience.
Address Input: After creating their account, customers are asked to enter their shipping address. By dedicating a separate step to this crucial information, we ensure that customers are focused on providing accurate details, reducing the likelihood of delivery issues.
Seamless Integration with Shopify Checkout: Finally, customers are redirected to the familiar Shopify checkout platform, where they can finalize their transaction. This integration offers a sense of familiarity and trust for users, while still benefiting from the enhanced checkout experience offered by the headless web app.
By reimagining the checkout process and breaking it down into clear, manageable steps, we have succeeded in creating a more user-friendly experience for Vegan Food Club customers. The new design not only streamlines the process but also reduces bounce-off rates and fosters customer satisfaction.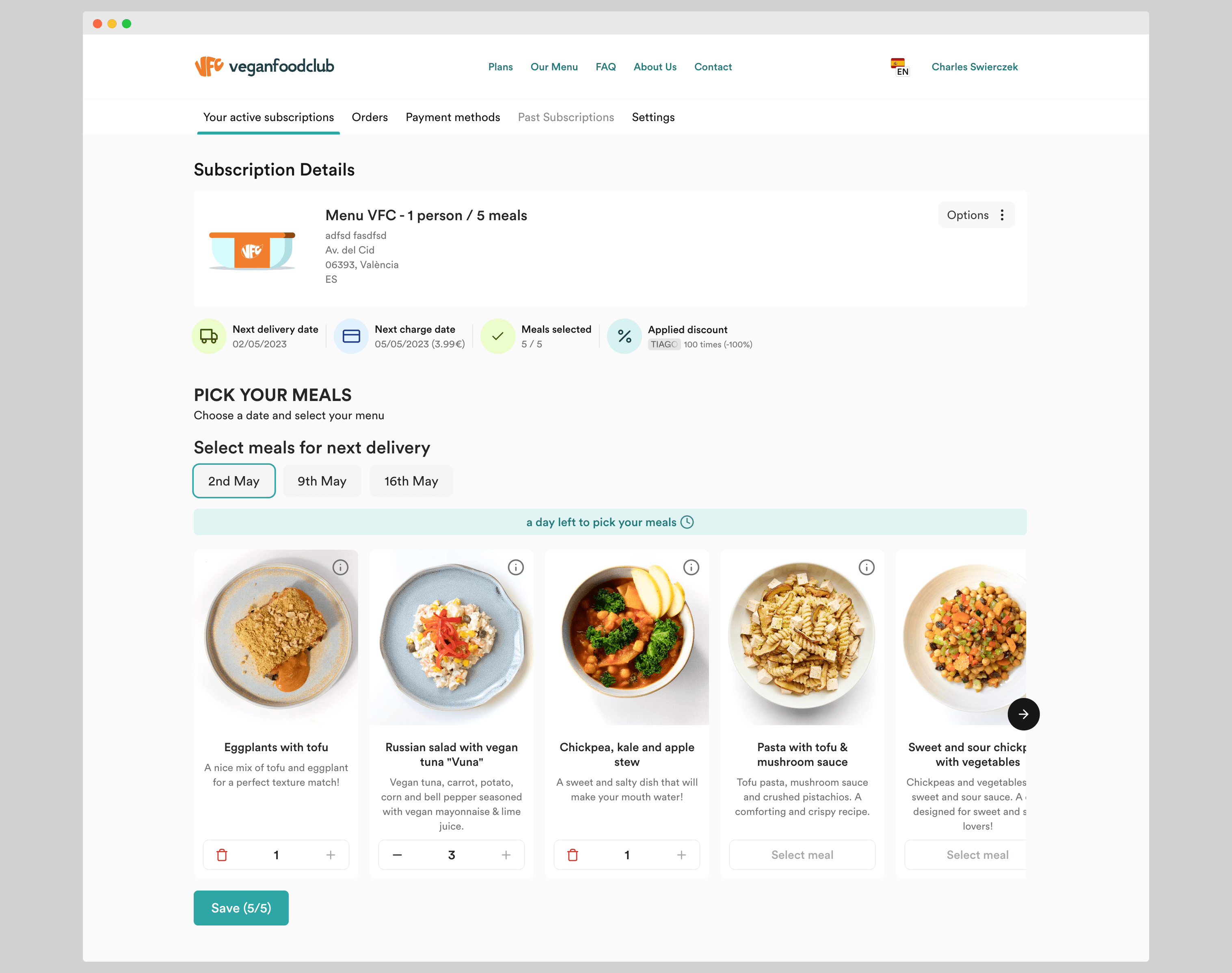 Improved Subscription Management Dashboard: Enhanced Control and Flexibility
A key aspect of our project was the development of an improved subscription management dashboard for Vegan Food Club customers. This user-friendly dashboard grants customers greater control and flexibility over their meal subscriptions, resulting in increased satisfaction and engagement. Key features of the new subscription management dashboard include:
Advanced Meal Selection: Customers can now plan their meals for up to three deliveries in advance, enabling them to efficiently organize their meal preferences and dietary needs. This feature makes it easy for customers to maintain a balanced and varied diet, while also minimizing the need for last-minute changes.

Flexible Address Management: The dashboard allows customers to quickly and easily update their shipping address, ensuring that their meals are delivered to the correct location without any issues. This is especially helpful for customers who may need to change their delivery location due to travel, relocation, or other circumstances.

Comprehensive Order History: Customers can access their past orders through the dashboard, providing them with a clear overview of their previous meal selections and delivery dates. This feature helps customers keep track of their favorite dishes, as well as monitor their spending and subscription activity.

Convenient Delivery Date Modification: The new dashboard enables customers to easily modify their delivery dates, granting them the flexibility to adjust their meal schedule according to their needs. Whether they require a temporary pause in deliveries or a simple rescheduling, this feature empowers customers to manage their subscription in a way that best suits their lifestyle.
The improved subscription management dashboard has significantly enhanced the customer experience for Vegan Food Club subscribers. By providing easy access to essential subscription management tools and options, we have created a platform that encourages user engagement and promotes customer satisfaction. The new dashboard ultimately contributes to a seamless and enjoyable meal subscription experience, helping Vegan Food Club retain and grow its loyal customer base.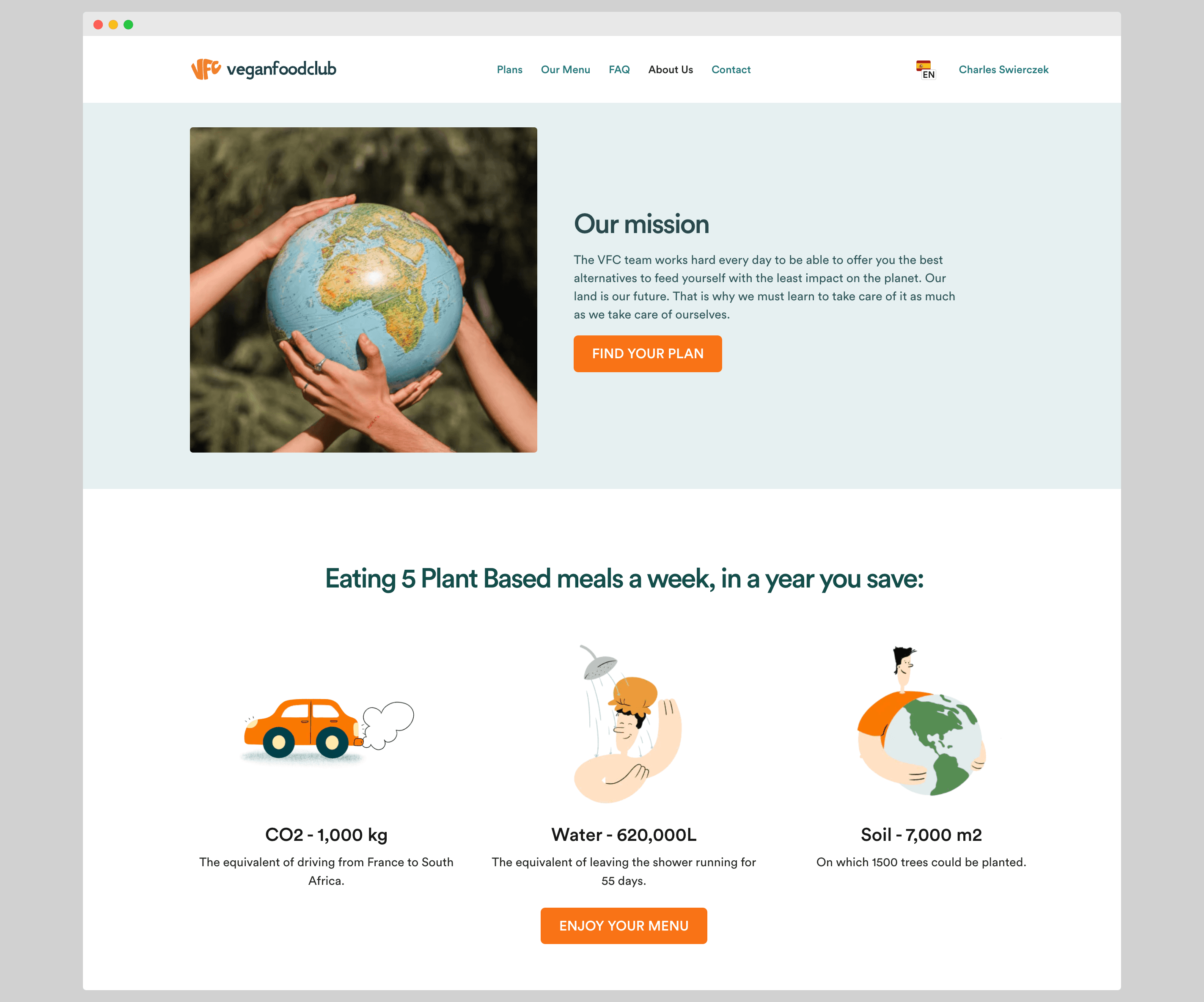 Transforming the Customer Experience for Vegan Food Club
The successful migration of Vegan Food Club to a headless web app has revolutionized their online presence, offering customers an improved and seamless experience.
The streamlined, user-friendly checkout experience has reduced bounce-off rates and increased conversions, leading to a boost in sales and revenue. The enhanced subscription management dashboard has empowered customers with greater control and flexibility over their meal subscriptions, resulting in increased satisfaction and engagement.
By effectively addressing the challenges of data migration, we ensured a smooth transition for Vegan Food Club customers, maintaining their trust and loyalty. The project's positive outcomes, including increased conversion rates, enhanced user engagement, and an influx of positive customer feedback, have reinforced Vegan Food Club's position in the competitive meal delivery market.
In conclusion, our collaboration with Vegan Food Club has demonstrated the significant impact of a well-executed software development project, paving the way for continued growth and success in the meal delivery industry. The seamless transition to a headless web app has not only improved the online experience for Vegan Food Club customers but has also set a new standard for user-friendly design and functionality in the meal delivery market.
Forkflow delivered the website with exceptional speed, and communication was very fluid. They were always trying to help and solve any problems that arose.

Lucas Gonzalez-Guija
CMO, Vegan Food Club